Radon Level Testing For Your Home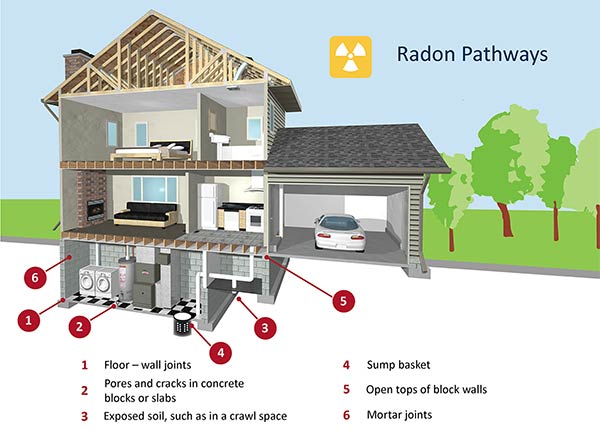 Most people are not aware of the significant dangers of radon. This is why our team at Inspect It First of Andover is so passionate about offering radon level testing. We work with countless realtors in the Andover and surrounding areas offering radon testing for homes all across the area. We also work with homeowners who may have heard about some of the dangers of radon and are interested in learning if their home is affected. If you're interested in radon level testing for a new home, or a home you've lived in for years, don't hesitate to reach out to Inspect It First of Andover today.
Dangers of Radon
Radon is a type of gas that you can't taste, see or smell. It typically forms when radioactive metals break down in rocks, soil and groundwater under and around your home. People are typically exposed to radon in the air that comes from gaps and cracks that exist in homes. Having your home tested for radon is the only way to know if you're at risk for radon exposure.
Lung Cancer – According to the EPA, radon is the second leading cause of lung cancer. In fact, the surgeon general attributes roughly 20,000 lung cancer deaths each year to radon.
Hard to Detect – Because radon gas is odorless, colorless and invisible, it is extremely hard to detect. Without radon level testing there's no way to know whether your home has a problem with elevated levels of radon. Do yourself a favor and have your home tested for radon to ensure you and your family are protected from the harmful dangers of this gas.
Some Areas Are More Susceptible to Radon – It's also important to know that certain areas may have higher levels of radon, so it's critical that you have your home tested. Our team at Inspect It First of Andover is well versed in these areas and can help put your mind at ease as to whether your home has elevated levels of radon.
What is Considered a High Level of Radon?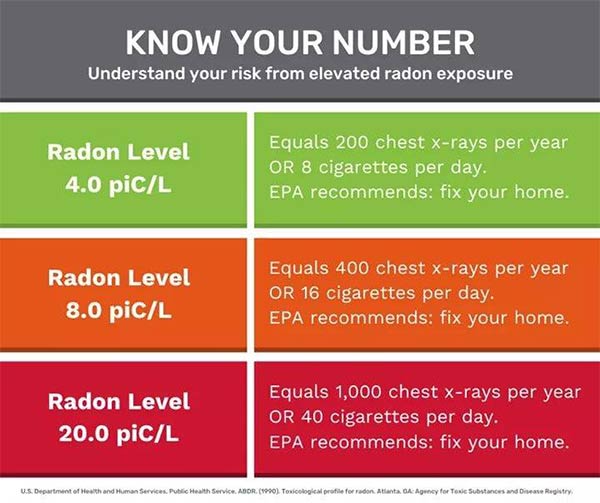 The EPA recommends that you have radon remediation performed if you have levels of 4.0 pCi/L or higher. The World Health Organization considers 2.7 pCi/L to be the level at which you should find a way to reduce radon levels in your home. For perspective, below is a representation of what radon levels equate to in comparison to cigarettes smoked:
  4 pCi/L – Equivalent to 8 cigarettes per day
  8 pCi/L – Equivalent to 16 cigarettes per day
20 pCi/L – Equivalent to 40 cigarettes per day
As mentioned before, radon is the second leading cause of lung cancer, which is especially alarming seeing that many homeowners have never had their homes tested for this gas. Do yourself a favor and schedule radon level testing today, regardless of whether you're buying a home or have been living in the same home for decades. Your health should always be your top priority, which is why the team at Inspect It First of Andover is so passionate about radon testing.
Minnesota Department of Health Deems Radon Major Concern in MN
According to the Minnesota Department of Health, roughly 2 in 5 homes have dangerous levels of radon. This shows that every home should be tested, regardless of age or location. Whether you're purchasing a new home or not, it's imperative that you schedule a radon test soon to rule out the potential dangers of this harmful gas. It's better to be armed with information and be able to make a decision about next steps than to live your life not knowing whether your home could have high levels of radon.
Contact Inspect It First of Andover for Radon Level Testing
We hope that you'll take our advice and have any home that you plan to live in tested for radon. To schedule a time for one of our radon experts to test your home, feel free to reach out to us today by phone at (612) 554-0805.