Customer Testimonials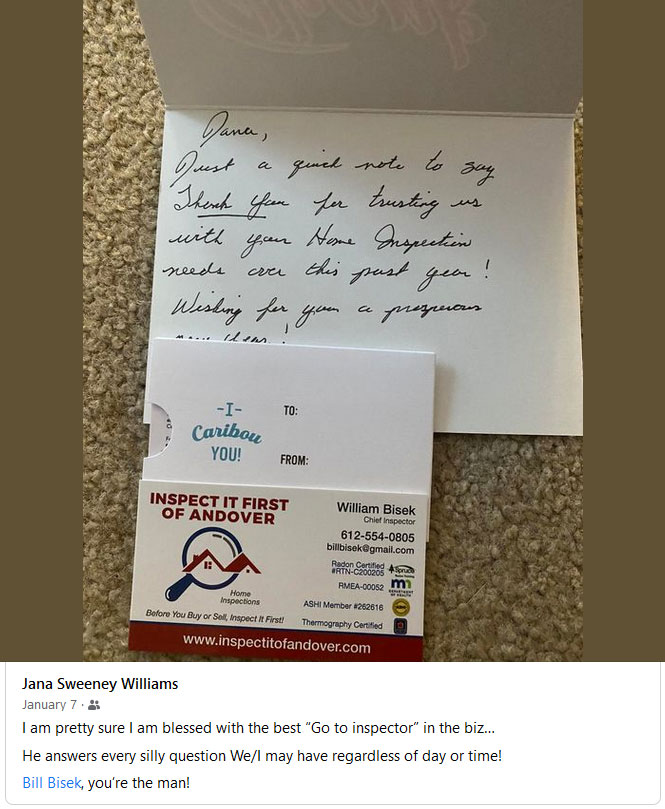 "We had a great experience with Inspect it First of Andover. Bill was thorough, professional and fun to work with, zeroing in and breaking down the essentials for us to understand, giving us peace of mind during such a major investment. Highly recommended!"
– Sam B.
"I can say with complete certainty that Bill and his company are on the top of my recommended list that I send to my clients. The amount of information and the thoroughness of Bills reports give the buyers everything that they might need to make an informed decision about each and every aspect about the home that they might be purchasing. Look no further for a reliable, trustworthy and knowledgeable inspector."
– Bruce McAlpin — REO Team Lead at Edina Realty, NRBA Master Broker, GRI, CBR, AReo, RDCPro, LMCPro, RLCPro
"Professional, thorough, and reliable home inspection. We would highly recommend using Inspect It First of Andover"
–  Nick W.
"Bill was referred to us by our realtor Jeremy Chubb. Bill was thorough, professional, and made sure our home we purchased was safe and in good shape. He went over the entire inspection with us and explained everything. Great experience & highly recommend."
–  Jordan P.
"Great company to do business with. Highly recommend!"
–  Crystal C.